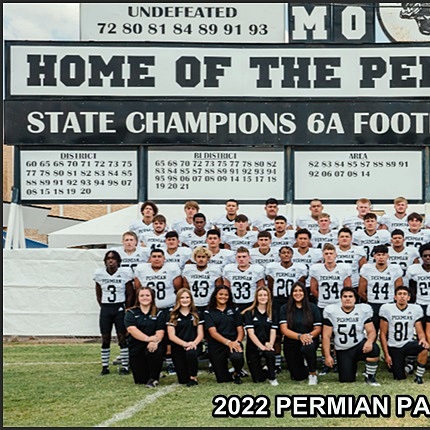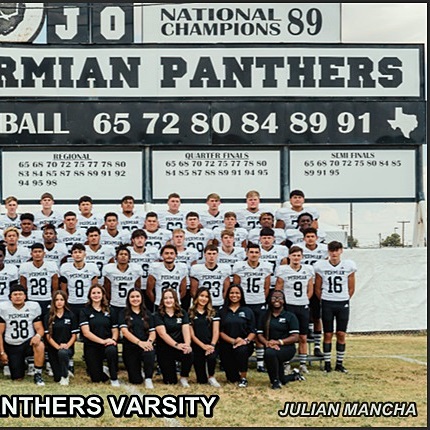 WWW.ODESSAPERMIAN.COM- THE OFFICIAL WEBSITE OF THE ODESSA PERMIAN FOOTBALL BOOSTER CLUB                      MOJO NATION                     COPYRIGHT  ALL RIGHTS RESERVED







PERMIAN PANTHERS  28   PEBBLE HILLS SPARTANS  45

Friday, November 11th    5:00pm CST     SISD Student Activities Complex El Paso

SUBJECT TO CHANGE WITHOUT NOTICE       *DISTRICT GAME        #PLAYOFF GAME        ALL TIMES CENTRAL

TIME 

W  17-03

W  41-20

W  13-12

W  28-27

W  56-28

W  38-07

L   33-25

W  42-41

W  43-31

W  31-15

L   45-28

      OPPONENT

Abilene

WACO MIDWAY

Amarillo Tascosa

KILLEEN HARKER HEIGHTS

ABILENE COOPER (Homecoming)

*Odessa

*MIDLAND LEGACY

*Frenship

*San Angelo Central

*MIDLAND (Senior Night)

#El Paso Pebble Hills

DATE

AUG

SEP

SEP

SEP

SEP

OCT

OCT

OCT

OCT

NOV

NOV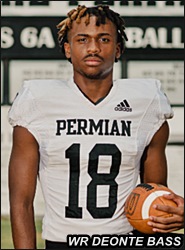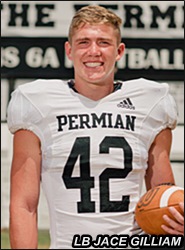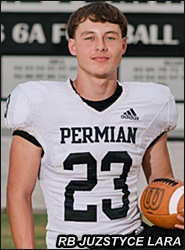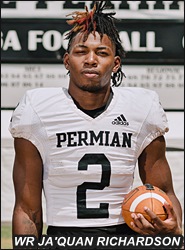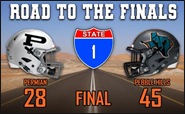 2022 2-6A ALL-DISTRICT TEAM

ROSTER PHOTOS-JULIAN MANCHA

NOVEMBER 11th- MOJO's 2022 playoff run came to an unexpectedly quick conclusion with a 45-28 loss to the Pebble Hills Spartans in El Paso.

The Spartans stunned the Panthers to start the game, returning the opening kickoff deep into MOJO territory. A short touchdown run made it Pebble Hills 7, Permian 0 with 8:37 to go in the first quarter. The Spartans added another score on a short pass to increase their lead to 14-0 at the end of the period.

Juzstyce Lara got Permian on the board in the second quarter with a short touchdown run. The teams traded scores from there, with Pebble Hills adding a field goal at the end of the half. The break came with the Spartans on top 24-14.

Permian received the second half kick, but could not put together an extended drive. Pebble Hills took the punt and drove down the field, scoring on a 40-yard pass to extend their lead to 31-14 with 10:02 remaining in the third period.

On their ensuing drive Permian was faced with fourth down and nine near midfield. Rather than punt, the Panthers threw a pass to the sideline that was ruled out of bounds. The Spartans would take possession and score a few plays later to increase their advantage to 38-14 with 2:14 to go in the third.

Permian clawed their way back into the game with a pair of touchdown passes to Jyzaiyah Solis and Ja'Quan Richardson in the fourth quarter. But Pebble Hills delivered the death blow after that with a 66-yard touchdown run with 6:49 remaining. Permian's final possession would stall, and the clock ran down with the Spartans on top 45-28.

The Panthers end the 2022 season at 9-2 with a District 2-6A co-championship.

NEXT UP- The Panthers will hold their annual Football Banquet Saturday, January 28th at the MCM Grande Fundome, time TBA.

LINKS:

ROSTER PHOTOS-JULIAN MANCHA

NO MIRACLE ENDING IN EL PASO

JUZSTYCE LARA

  1st Team Running Back

ANDREW HELGUERA

  1st Team Fullback/H-Back

NATHAN RODRIGUEZ

1st Team Tight End

RODNEY HALL

  1st Team Quarterback

JA'QUAN RICHARDSON

  1st Team Wide Receiver

HARRIS SEWELL

  1st Team Offensive Tackle

NATHANIEL RODRIGUEZ

  1st Team Offensive Guard

FRANSISCO SANCHEZ

  1st Team Center

ISAAC HERRERA

1st Team Utility Back

TATE TERRY

1st Team Kicker

TABARIE JONES

2nd Team Wide Receiver

ISRAEL PONCE

2nd Team Offensive Tackle

LANDON PETERSON

  2nd Team Offensive Tackle

LINKS:

BRYCE WOODY

  Defensive MVP

PARKER HAYNES

Defensive Newcomer of The Year

DESMOND HILL

  1st Team Defensive End

PARKER HAYNES

  1st Team Outside Linebacker

JACE GILLIAM

1st Team Outside Linebacker

CAYSON CLINTON

  1st Team Inside Linebacker

KEATYN ARMSTRONG

  1st Team Outside Linebacker

DEONTE BASS

  1st Team Cornerback

JADYN PRUITT

  1st Team Cornerback

BRYCE WOODY

  1st Team Safety

FRANK ALVARADO

  2nd Team Defensive End

HAYDEN DURAN

2nd Team Safety

JACOB FRANCO

2nd Team Punter