WWW.ODESSAPERMIAN.COM- THE OFFICIAL WEBSITE OF THE ODESSA PERMIAN FOOTBALL BOOSTER CLUB                            COPYRIGHT 2001-2014  ALL RIGHTS RESERVED

IRVING AP- It came a year late, but the Odessa Permian Panthers finally defended their state title.

The Panthers, who won the 1989 Class 5A championship but were kept out of last year's playoffs for allegedly holding an unautherized offseason practice, captured their sixth state championship with a 27-14 victory over San Antonio Marshall in the Class 5A Division II final.

"It's a great feeling" said Permian quarterback Stormy Case, who completed nine of 14 passes for 124 yards and a touchdown. Case's older brother, Stoney, played quarterback for the 1989 Panthers. "He had the chance to do it, and I've followed in his footsteps. I can't complain."

Malcolm Hamilton carried 20 times for 104 yards and sophomore John Williams scored two touchdowns in the victory, which capped a perfect 16-0 season.

The Marshall Rams, led by Anthony Priest Holmes' 118 yards rushing, ended their most successful season ever at 13-3.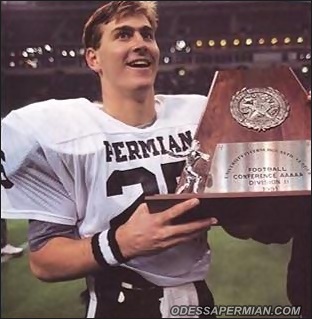 Quarterback Stormy Case hoists the 1991 Class 5A State Championship trophy.

For Permian, widely known as "MOJO", the victory capped a comeback season after being denied a chance at the playoffs and ripped by H.G. Bissinger's 1990 best-selling book titled Friday Night Lights.

"At the start of the season that was really the mindset, to think about what happened last year," Case said. "That was forgotten midway through the season. We didn't want the past to dictate what we did. We just wanted to put MOJO back on top for ourselves."

Permian reached the top Saturday with an explosive second half that included both Williams' scores and a key defensive stand to open the fourth quarter.

The sophomore running back's first score came with 7:48 remaining in the third quarter, capping a nine-play 62 yard drive that evened the score at 14-14. Williams, who carried 12 times for 76 yards, pounded his way to a 22 yard gain, breaking two tackles in the process, to set up the score.

"That changed the momentum of the game," Case said. "That got our confidence back. We realized that we could hang on to the ball and score."

After Williams' second touchdown gave the Panthers their first lead of the day at 21-14, MOJO's defense rose up to stifle the Rams' attempt to answer in the fourth quarter. From their the Panthers went on a time-consuming drive to ice the game, with Patrick Strambler going in for the final score with 2:14 remaining in the game.

Permian Panthers vs San Antonio Marshall Rams

December 21st, 1991   Texas Stadium

PERMIAN                       0                      7                      14                    6                        - 27

Marshall                         7                      7                       0                     0


          -14
FIRST QUARTER

MAR                         Reza 1 run (Briggs kick) 3:31

SECOND QUARTER

PER                          Wagner 30 pass from Case (Wells kick) 11:50

MAR                         Holmes 20 run (Briggs kick) 6:20

THIRD QUARTER

PER                          Williams 6 run (Wells kick) 7:48

PER                          Williams 10 run (Wells kick) 3:37

FOURTH QUARTER

PER                          Strambler 1 run (kick failed) 2:14

Marshall          Permian

11                     19

43-171              37-176

15                    124

1-7-0                 9-14-1

74                     48

3-26                   0-0

0-0                    3-2

5-32                  4-25

First Downs

Rushes- Yards

Passing Yards

Comp-Att-INT

Return Yards

Punts-AVG

Fumbles-Lost

Penailties-yards

RUSHING- Marshall: Holmes, 25-119; Reza, 18-52;  Permian; Hamilton, 20-104; Williams, 12-76; Case, 2-4; Strambler, 2-2; Ross, 1-(-2)

PASSING- Marshall: Sammon, 1-3-0  for 15 yards; Saldana-0-2-0; Siebert 0-1-0; Holmes 0-1-0;  Permian:

Case 9-14-1 for 124 yards

RECEIVING- Marshall: Ormond 1-15;  Permian: Wagner 4-56; Parrett 4-55; Hamilton 1-13

INTERCEPTIONS- Marshall: Short 1-5

1991 STATE CHAMPIONSHIP VIDEO