WWW.ODESSAPERMIAN.COM- THE OFFICIAL WEBSITE OF THE ODESSA PERMIAN FOOTBALL BOOSTER CLUB                            COPYRIGHT 2001-2012  ALL RIGHTS RESERVED

Gary Gaines is in his second tenure as Permian head coach, and his 38th year in the coaching profession overall. Coach Gaines previously led the Panthers football team from 1986 to 1989, compiling a 46-7-1 overall record and winning a Class 5A state championship and the mythical national championship in 1989. Gaines left after the 1989 season to become linebackers coach at Texas Tech University. After returning to the schoolboy ranks as head coach at Abilene High and San Angelo Central he was selected as Abilene Christian University's head coach in 2000, coaching for five seasons and compiling a 21-30 record. Gaines returned to Odessa in 2005 to become athletic director for the Ector County Independent School District, and then accepted a similar position for the Lubbock ISD in 2007. But the drive to coach and teach young people never faded, and so he returned to lead the Permian Panthers football program in 2009.

GARY GAINES

HEAD COACH - ATHLETIC COORDINATOR

Coach David Jones begins his 20th year in coaching, and his fifth at Permian. Previous coaching stops for Jones include Denton Guyer as assistant head coach, and Brownwood as defensive coordinator. Jones is a graduate of Brownwood High School and Abilene Christian University.

DAVID JONES

ASSISTANT HC - DBs


ROBBY CLARK

ASSOCIATE HC - OC

Coach Robby Clark begins his third season as offensive coordinator after four years as the head coach at Midlothian. Clark is in his 18th year of coaching football. Previous coaching stops for Clark include Rockdale (head coach), Burnet, Cedar Hill, and Brownwood.

CLINT COLES

DEFENSIVE LINE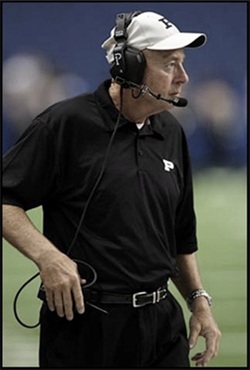 JERALE BADON

WIDE RECEIVERS

Coach Jerale Badon begins his second season at Permian High School after coaching at San Angelo Lakeview. Badon earned his degree from Abilene Christian University, where he played under Coach Gaines. Badon was a standout wide receiver at ACU and Abilene High.

Coach Morgan Robinson is beginning his tenth year of coaching, and fourth at Permian after coaching at Bonham Junior High the previous six years. A graduate of Permian High School, Robinson played baseball at Wayland Baptist University and earned a degree in chemistry.

MORGAN ROBINSON

OFFENSIVE LINE


PHILIP LEONE

RUNNING BACKS


BILL GREEN

TIGHT ENDS-OFFENSIVE LINE


VANCE WASHINGTON

LINEBACKERS

Coach Vance Washington begins his 18th year in coaching, and second at Permian. The PHS graduate was most recently the head varsity baseball coach at Garland Naaman Forest. Previous coaching stops include Midland Lee, Midlothian, Midland, and Pecos.