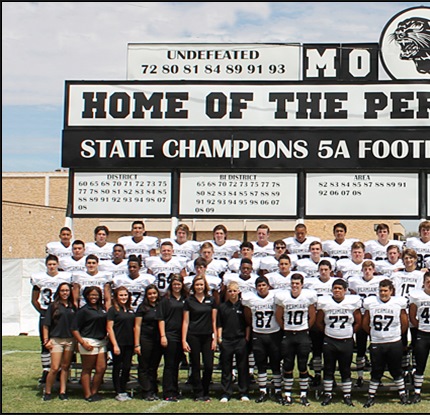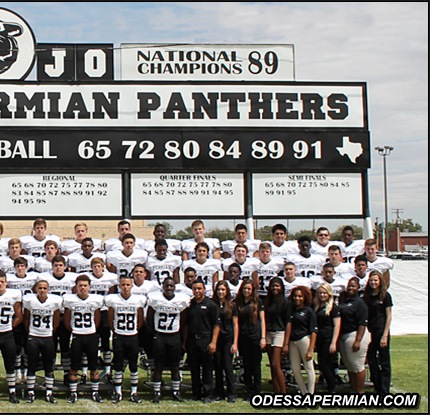 WWW.ODESSAPERMIAN.COM- THE OFFICIAL WEBSITE OF THE ODESSA PERMIAN FOOTBALL BOOSTER CLUB                            COPYRIGHT 2001-2014  ALL RIGHTS RESERVED

SUBJECT TO CHANGE WITHOUT NOTICE          *DISTRICT GAME         ALL TIMES CST

       TIME

7:00pm

1:00pm

2:00pm

8:00pm

7:00pm

7:30pm

7:30pm

7:30pm

7:30pm

7:30pm

7:30pm

      OPPONENT

Frenship (Scrimmage)

McAllen

MISSION MEMORIAL

El Paso Americas

EL PASO CORONADO

LUBBOCK CORONADO (HOMECOMING)

*Midland Lee

*Abilene

*MIDLAND

*Odessa

*SAN ANGELO CENTRAL

DATE

AUG    22

AUG    30

SEP      6

SEP    12

SEP    19

SEP    26

OCT    10

OCT    17

OCT    24

OCT    31

NOV     7

SITE (Click on venue to view info)

BLACK BEATS WHITE IN MOJO SPRING GAME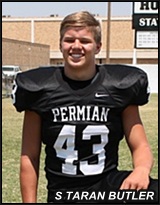 MAY 23rd- The 2014 edition of the Permian Panthers wrapped up four weeks of spring practices with their annual Black-White Game. MOJO Team Black scored a 14-3 victory over the White squad on Friday at Ratliff Stadium.

With the offensive starters on the White Team, and defensive starters on Black, the teams looked to be evenly matched on paper. But while the White had their moments it was the Black defense that dominated most of the action, holding Team White to a single field goal by Dakoda Delao. Taran Butler-playing safety for the first time after starting at outside linebacker last season-grabbed two interceptions to lead the way for the Black squad. Linebacker Cody Young contributed to the cause with a fumble recovery.

On offense, Fabian Cruz took a swing pass to the end zone from 48 yards out for Black, and Elias Zuniga added a four yard touchdown run to their total. Dakoda Delao- kicking for both sides- added the extra points.

The White defense had some bright spots of their own, as Jordan McCoy and Jack Peterson picked off a pass apiece. On offense, Trey Potter threw for 122 yards, with running backs Brandon Bailey and Marquist Allen adding 99 yards on the ground.

LINKS: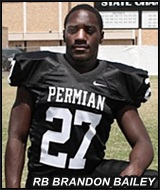 MOJO FOOTBALL PRESEASON SCHEDULE

The Permian Panthers first week of morning two-a-days is in the books. Practice times will shift to the afternoon for the next two weeks. Wednesday will feature an intrasquad scrimmage.

The annual Watermelon Feed-Meet the Panthers Night will be held Thursday, August 21st at 7:00pm. After introducing the 2014 Permian Panthers Varsity, watermelon will be served in the courtyard. The Feed also serves as the first general meeting of the Booster Club, so MOJO fans are encouraged to come out and renew your membership for the 2014 season. And we always welcome new members.

The Panthers have scheduled the Frenship Tigers as their scrimmage opponent on Friday, August 22nd. The action begins with the Junior Varsity teams squaring off at 5:00pm at People's Bank Tiger Stadium in Wolfforth. Freshmen will scrimmage on the grass fields at 5:00pm. Varsity teams take the field at 7:00pm.

Finally, the 2014 season kicks off for real on Saturday, August 30th in San Antonio vs the McAllen Bulldogs. Kickoff is set for 1:00pm at Rutledge Stadium in Converse.

LINKS: