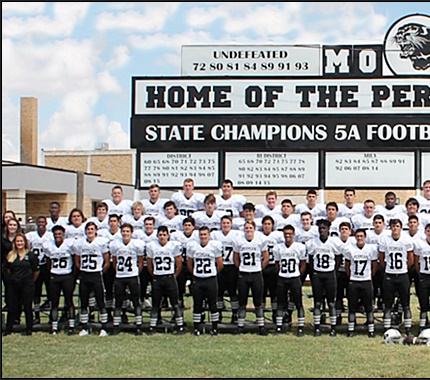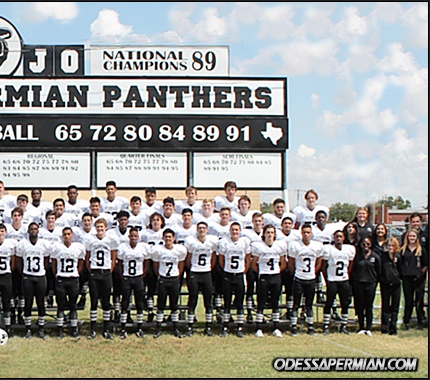 WWW.ODESSAPERMIAN.COM- THE OFFICIAL WEBSITE OF THE ODESSA PERMIAN FOOTBALL BOOSTER CLUB                        MOJO NATION                       COPYRIGHT  ALL RIGHTS RESERVED







SUBJECT TO CHANGE WITHOUT NOTICE          *DISTRICT GAME          #PLAYOFFS        ALL TIMES CDT

       TIME

6:30pm

7:00pm

7:00pm

7:00pm

7:00pm

7:30pm

7:30pm

7:30pm

7:30pm

7:30pm

7:30pm

      OPPONENT

LUBBOCK COOPER (Scrimmage)

Austin Vandegrift

El Paso Franklin

EL PASO EASTWOOD

BISHOP TIMON-ST JUDE, NEW YORK  (Homecoming)

*Wolfforth Frenship

*MIDLAND

*Amarillo Tascosa

*SAN ANGELO CENTRAL

*Odessa

*MIDLAND LEE (Senior Night)

DATE

AUG

AUG

SEP

SEP

SEP

SEP

OCT

OCT

OCT

OCT

NOV

MOJO DOMINATES LUBBOCK COOPER IN SCRIMMAGE

AUGUST 19th- The Permian Panthers had a solid start to the 2016 season in their scrimmage against Lubbock Cooper on Friday. In the controlled segment of the scrimmage, MOJO tallied six touchdowns while holding the Pirates scoreless.

Hunter Hawkins got things going on the second play from scrimmage, taking a quick swing pass from quarterback Steve Steen and rumbling down the far sideline for a 64 yard touchdown. Steen topped that on the next series of plays with a 65 yard touchdown run. The first team offense would yield to the defense from there, with Permian holding Lubbock Cooper scoreless in 20 plays.

The next series of plays was more of the same for the Panthers offense. Tyler Marquez came in at quarterback and immediately hooked up with Micheal Comer for a 60 yard catch-and-run touchdown. Justin Hammond joined in the scoring on the next series on a 31 yard quarterback keeper. From there the defense was back on the field, holding the Pirates scoreless once again. After two complete possessions for each team, Permian held a four touchdowns to none lead.

Steen got the offense going again on the next series, hitting Kobe Robinson in stride on a 60 yard touchdown pass. Robinson turned the trick again on the next series, taking a pitchout from Steen and streaking down the sideline for a 56 yard touchdown run. Cooper's final possession ended with consecutive interceptions by Zane Digby and Jaden Riggs.

The domination continued in the live half of the scrimmage. MOJO had the ball first and immediately put it to good use, with Robinson getting his third score of the game on a 61 yard strike from Steen. After a quick three-and-out from the MOJO defense, Steen hooked up with Hawkins from 15 yards out. The Pirates got their only score on the following series, with Jarret Doege throwing to Zyketh Campbell for a touchdown. Permian answered with Robinson's fourth TD of the scrimmage, this time from one yard out. The quarter ended with Permian up 21-7.

The second live quarter was as good as the first. Steen threw his fifth touchdown pass of the day, hitting Brother Miller in the corner of the endzone from 25 yards out. With a 28-7 lead, the second units took the field with the same results. Sophomore Ed Williams capped a long drive with a one yard touchdown plunge. The live half ended with the score Permian 35, Lubbock Cooper 7.

In sub-varsity action, the JV Black scrimmage ended in a 2-2 tie, while the White team held a 4-0 scoring advantage in their contest. No report from freshman teams at the time this article was posted.

NEXT UP: The Panthers will open the regular season in Austin vs the Vandegrift Vipers Friday, August 26th. Kickoff is set for 7:00pm at Monroe Stadium on the Vandegrift High School campus.  

LINKS:

PERMIAN PANTHERS   vs   VANDEGRIFT VIPERS

Friday, August 26th        7:00pm         Monroe Stadium         GAMEDAY CENTRAL