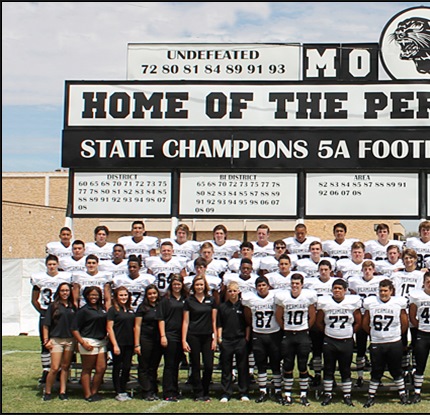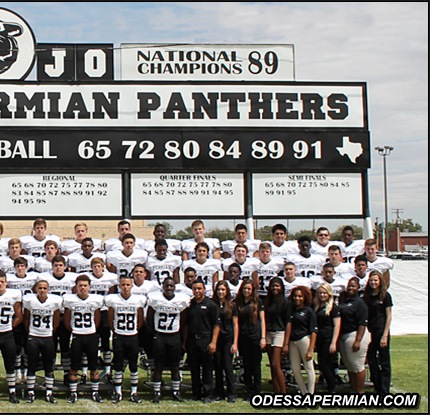 WWW.ODESSAPERMIAN.COM- THE OFFICIAL WEBSITE OF THE ODESSA PERMIAN FOOTBALL BOOSTER CLUB                            COPYRIGHT 2001-2015  ALL RIGHTS RESERVED







TWO A DAY PRACTICE BEGINS MONDAY AUGUST 10TH

Season tickets go on sale July 22nd            MOJO Media Day August 15th           Watermelon Feed August 20th

SUBJECT TO CHANGE WITHOUT NOTICE          *DISTRICT GAME          #PLAYOFFS        ALL TIMES CST

       TIME

7:00pm

1:00pm

2:00pm

7:00pm

7:00pm

7:00pm

7:30pm

7:30pm

7:30pm

7:30pm

7:30pm

      OPPONENT

Frenship (Scrimmage)

MCALLEN

MISSION MEMORIAL

EL PASO AMERICAS

El Paso Coronado

Lubbock Coronado

*MIDLAND LEE (Homecoming)

*ABILENE

*Midland

*ODESSA

*San Angelo Central

DATE

AUG    21

AUG    29

SEP      5

SEP    11

SEP    18

SEP    24

OCT     9

OCT    16

OCT    23

OCT    30

NOV     6

SITE (Click on venue to view info)

2015 RETURNING VARSITY ROSTER

#

2

3

4

5

6

7

8

10

12

13

15

16

17

19

20

21

22

23

24

25

26

27

28

29

30

32

33

34

37

39

40

41

42

PLAYER

Kobe Robinson

Dexter Neboh

Fabian Cruz

Hunter Wynne

Deylon Moreno

Jax Welch

Hunter Hawkins

Jack Fawcett

Javorian Miller

Austin Reeves

Trey Potter

Desmon Smith

Brandon Bailey

Jordan McCoy

Robby Washington

Isaiah Sarabia

Austin Handlin

Josh Nguyen

Braxton Pena

Daelyn Sumuel

POS

WR

WR

WR

WR

LB

S

WR

TE

WR

WR

QB

CB

RB

CB

LB

S

LB

LB

LB

S

#

43

44

45

46

47

48

49

51

54

55

60

61

63

64

65

66

67

68

70

71

72

74

75

77

79

81

82

84

86

87

88

89

90

PLAYER

DJ Landreth

Tommy Taylor

David Lopez

Joe Hernandez

Aaron Briswalter

Zane Digby

Adebolanle Balogun

Jacob Wheeler

Jayce Rush

Jesus Olivares

Trace Notley

McKenzie Lawson

Angel Gonzales

Nick Loya

Andrew Blackstone

D'Anthony Jones

Dakoda Delao

POS

LB

LB

LB

LB

DL

OL

DL

DL

OL

OL

OL

OL

DL

TE

DL

WR

K

YR

JR

SR

SR

JR

SR

SR

JR

SR

SO

SR

SR

SR

SR

SR

SR

SR

SR

SR

SR

SR

YR

SR

SR

SR

SR

SR

SR

SR

SR

JR

SR

SR

SR

SR

SR

SR

SR

SR

WHITE TEAM PREVAILS IN PERMIAN SPRING GAME

MAY 22nd- The Varsity White Team defeated Black 38-10 as the Permian Panthers concluded spring drills with their annual Black-White Spring Game.

The White Team offense started quickly. Trey Potter hit TE Jack Fawcett on a drag route that got the Panthers down to the five yard line, with Potter cashing in on a QB keeper on the next play. Team Black responded with two first downs as Tyler Marquez completed three passes for 31 yards. But the drive stalled at the 27 yard line, and White took over.

The second quarter found White marching down to the 25 yard line behind the running of Brandon Bailey. From there Potter connected with Dexter Neboh on an exciting catch-and-run for the second touchdown of the day for White. Black answered with a nice drive highlighted by an 18 yard pass from Steve Steen to Axtin Wood. Jacob James finished the drive with a six yard field goal. White went into the break with a 14-3 lead.

The second half was much like the first for Team White. After a fumble recovery by the defense set them up in Black territory, White backup quarterback Javorian Miller led the offense on a short scoring drive capped by Elias Zuniga's two yard touchdown plunge. After another Black fumble, the White team scored again quickly. Miller- now lined up at wide receiver- made consecutive acrobatic catches to give White their fourth touchdown of the day. After Black suffered their third fumble in as many possessions, Miller led White on a five play, 39 yard scoring drive. Slot receiver Kobe Robinson scored the touchdown on a one yard run. The third quarter ended with Team White on top 35-3.

The Black Team finally got in the end zone in the fourth quarter. Runningback Jaime Garza led them downfield on runs of nine, 18, and 13 yards. From there Steen connected with DeAnthony Jones from 19 yards out for the touchdown. Team White ended the scoring with a 42 yard field goal from Dakoda Delao.

White quarterback Trey Potter led all quarterbacks with 14-17 passing for 177 yards and two TDs. Black runningback Jaime Garza led all rushers with 74 yards on 10 carries. WRs Dexter Neboh and Javorian Miller combined for eight receptions for 121 yards and two touchdowns.

LINKS: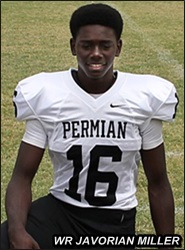 24TH ANNUAL PANTHER FOOTBALL CAMP