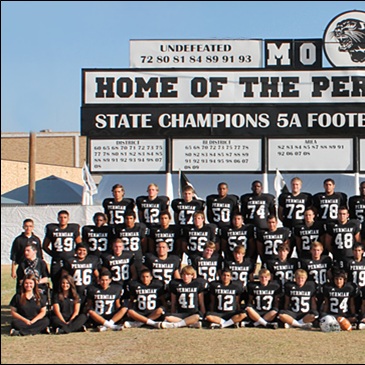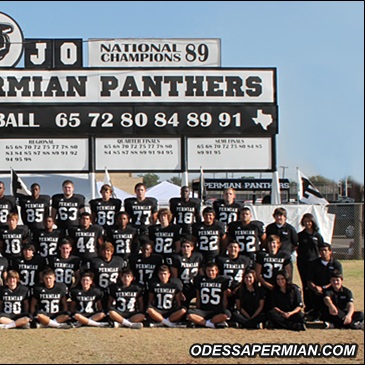 WWW.ODESSAPERMIAN.COM- THE OFFICIAL WEBSITE OF THE ODESSA PERMIAN FOOTBALL BOOSTER CLUB                            COPYRIGHT 2001-2013  ALL RIGHTS RESERVED

SUBJECT TO CHANGE WITHOUT NOTICE          *DISTRICT GAME

TIME

TBA

8:00

7:30

7:30

7:30

7:30

7:30

7:30

7:30

7:30

7:30

OPPONENT

EL PASO EL DORADO (scrimmage)

EL PASO MONTWOOD

Frenship

*Odessa High

*ABILENE HIGH

*Midland High

*AMARILLO TASCOSA

OPEN

*San Angelo Central

*ABILENE COOPER

*Midland Lee

*LUBBOCK CORONADO

DATE

AUG    23

AUG    30

SEP      6

SEP    13

SEP    20

SEP    27

OCT     4

OCT    11

OCT    18

OCT    25

NOV     1

NOV     8

SITE

Van Horn

RATLIFF STADIUM

Tiger Stadium

Ratliff Stadium

RATLIFF STADIUM

Grande Stadium

RATLIFF STADIUM

San Angelo Stadium

RATLIFF STADIUM

Grande Stadium

RATLIFF STADIUM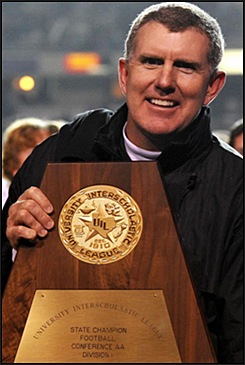 JANUARY 11th- Blake Feldt has been selected as the next head football coach of the Permian Panthers. Most recently the head football coach at Hays High School, Feldt was unanimously approved by the ECISD Board of Directors.

The 51 year old Feldt is a Midland native, starting for two years for the Midland Bulldogs. Feldt attended Texas Tech, starting for three years on the offensive line and serving as team captain his senior year. Upon graduation he served as a graduate assistant under Jerry Moore, then followed Moore to Apalachian State as an assistant coach. He would later serve as an assistant coach at Southern Methodist University.

Feldt returned to the high school ranks in 1998 when he joined the staff at his alma mater Midland High. After a two year stint as offensive line coach for the Bulldogs, Breckenridge came calling with an offer for Feldt to be their head coach. After five years at Breckenridge Feldt took over the head coaching job at Pilot Point, compiling an overall record of 50-22 and winning the 2A Division I championship in 2009. 

Coach Feldt plans for the Panthers to hold spring football practice from April 30th to May 23rd, as well as participate in 7 on 7 over the summer.

LINKS-

BLAKE FELDT TO LEAD PERMIAN PANTHERS

2012 FOOTBALL BANQUET AWARDS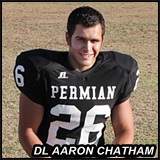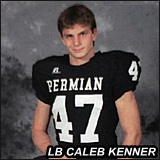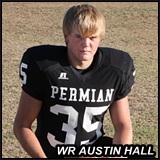 MOST VALUABLE PLAYER

  Andrew Perez

ED GRAY AWARD

  Caleb Kenner

HIGHEST GPA

  Clay Adams

MOST CONCIENTIOUS PLAYER

  Austin Hall

WILKINS SCHOLARSHIP

  Tyler Grizzell

SCHNEIDER SCHOLARSHIP

  Michael Franco

BEST OFFENSIVE LINEMAN

  Andre Gillette

BEST DEFENSIVE LINEMAN

  Aaron Chatham

BEST DEFENSIVE BACK

  Clay Adams

LINKS-

BEST OFFENSIVE RECEIVER

  Andrew Perez

BEST OFFENSIVE BACK

  Jorrion Wilson

BEST LINEBACKER

  Tanner Vestal

BEST SPECIAL TEAMS

  Tyler Grizzell

HOWELL FIGHTING PANTHER

  Jack Wilkins

SUPPORT STAFF

  Jordan Jones

FOOTBALL SWEETHEART

  Blake Rogers

GENE MCCANLIES AWARD

  John Wilkins

GEORGE MANLY AWARD

  Scott and Laura Vestal

From the Permian Football Booster Club and ODESSAPERMIAN.COM. Over one hour of exclusive video highlights from the 2012 football season, from opening kickoff to the final whistle. $20.00 plus $5.00 P&H to ship, or pick up your copy at the Permian Athletics Office. Net proceeds benefit the Permian Panthers Football Program. CONTACT US for shipping information.
RESERVE YOUR COPY NOW

OFFICIAL 2012 HIGHLIGHT VIDEO

PERMIAN PANTHERS SPRING FOOTBALL BEGINS APRIL 30TH

Practice schedule on the CALENDAR Page                                                Black-White Game Thursday, May 23rd