WWW.ODESSAPERMIAN.COM- THE OFFICIAL WEBSITE OF THE ODESSA PERMIAN FOOTBALL BOOSTER CLUB                            COPYRIGHT 2001-2015  ALL RIGHTS RESERVED







PERMIAN VS MCALLEN SATURDAY, AUGUST 29TH

1:00pm Rutledge Stadium in Converse (San Antonio)                            GAMEDAY CENTRAL
SUBJECT TO CHANGE WITHOUT NOTICE          *DISTRICT GAME          #PLAYOFFS        ALL TIMES CST

       TIME

10:30am

1:00pm

2:00pm

7:00pm

7:00pm

7:30pm

7:30pm

7:30pm

7:30pm

7:30pm

7:30pm

      OPPONENT

Frenship (Scrimmage)

MCALLEN

MISSION MEMORIAL

EL PASO AMERICAS (Homecoming)

El Paso Coronado

Lubbock Coronado

*MIDLAND LEE

*ABILENE

*Midland

*ODESSA

*San Angelo Central

DATE

AUG    21

AUG    29

SEP      5

SEP    11

SEP    18

SEP    24

OCT     9

OCT    16

OCT    23

OCT    30

NOV     6

SITE (Click on venue to view info)

MOJO MAKES GOOD IN SCRIMMAGE VS FRENSHIP

AUGUST 22nd- The Permian Panthers looked very good in their first live action of the 2015 season, outscoring Frenship 6-2 in a controlled scrimmage on Friday.

The Panthers offense wasted no time in getting things going. Sophomore wideout Javorian Miller caught a screen pass from quarterback Trey Potter and took it 66 yards for a touchdown on the second play from scrimmage. Potter and Brandon Bailey showed off the ground attack on the following drive, with Bailey capping the 70 yard drive with a four yard touchdown run. The MOJO defense took over from there, keeping the Frenship starting offense out of the endzone on consecutive possessions.

Permian's second team offense got on the board when slotback Fabian Cruz took a pitch from Miller and turned the corner for a 70 yard touchdown run. Cruz would add the fourth touchdown to the total when the starting offense returned, diving into the endzone from four yards out. Frenship's second team offense finally got on the board late in the controlled portion of the scrimmage.

The live portion of the scrimmage started out slow for the Panthers, with the starting offense getting consecutive procedure penalties. Miller would bail them out however, taking another Potter screen pass and turning it into a 67 yard score. Frenship answered with a 24 yard touchdown run. MOJO responded with an 11 play, 80 yard drive capped by Bailey's one yard touchdown run. Frenship's final drive ended with a 37 yard field goal.

Javorian Miller ended the day with two touchdowns. Brandon Bailey and Fabian Cruz also contributed two scores apiece. Trey Potter ended the live portion with 79 yards and a touchdown on 4-of-6 passing (no stats were kept during the controlled portion).

On the defensive side Jacob Wheeler, Robby Washington, and Josh Nguyen each recorded a sack. DE Andrew Blackstone made several big stops. Sophomore safety Seth Higdon grabbed an interception and appeared to be headed for the endzone before play was whistled dead, per scrimmage rules.

NEXT UP: The Panthers travel to Converse (San Antonio) to take on the McAllen Bulldogs. Kickoff is set for 1:00pm Saturday, August 29th. Permian is the designated home team.

LINKS: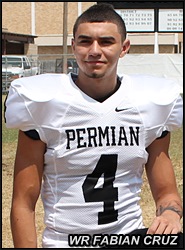 #

2

3

4

5

6

7

8

9

10

12

13

14

15

16

17

18

19

20

21

22

23

24

26

27

28

29

30

31

32

34

35

37

39

40

41

42

43

PLAYER

Kobe Robinson

Dexter Neboh

Fabian Cruz

Axtin Wood

Hunter Wynne

Deylan Moreno

Michael Comer

Jordan McCoy

Jax Welch

Robby Washington

Hunter Hawkins

Steve Steen

Jack Fawcett

Preston Ellison

Austin Reeves

Javorian Miller

Terrion Chadwick

Trey Potter

Seth Higdon

Tyler Marquez

Jaime Garza

Desmon Smith

Chris Owens

Brandon Bailey

Lorrid Parks

Dylan Moreno

Ishmael Ontiveros

Marlin Lazo

Isaiah Sarabia

Josh Nguyen

Herb Anderson

Darren Arenivas

Elias Zuniga

Tyler Thurman

Braxton Pena

Daelyn Sumuel

Emilio Juarez

POS

WR

WR

WR

WR

DB

LB

WR

CB

S

S

WR

QB

TE

LB

WR

WR

CB

QB

S

QB

RB

CB

DB

RB

WR

DB

LB

LB

S

LB

RB

LB

RB

LB

LB

S

LB

#

44

45

46

47

48

49

51

52

53

54

55

56

59

60

61

62

63

64

65

66

67

68

70

71

72

73

74

75

77

82

84

85

86

88

89

90

96

PLAYER

Aaron Vasquez

DJ Landreth

Mitch Garza

Anthony Chavez

Tommy Taylor

David Lopez

Joe Hernandez

Michael Branum

O'Ryan Farley

Kanyon Ramirez

Aaron Briswalter

Jacob Wilkerson

Kaden Gray

Zane Digby

Adebolanle Balogun

Gabriel Leal

Jacob Wheeler

Jayce Rush

Jesus Olivares

Trace Notley

Isaac Soloman

McKenzie Lawson

Orlando Bueno

Connor Russell

Pablo Olivares

Chance Holder

Jacob Cruz

Josh Rubacalba

Angel Gonzales

Andrew Blackstone

Jacob James

Deante Hubert

Campbell Terry

D'Anthony Jones

Dakoda Delao

Aaron Sears

Taivon Walker

POS

RB

LB

LB

DB

LB

LB

LB

LB

OL

OL

DL

OL

OL

OL

DL

OL

DL

OL

OL

OL

OL

OL

OL

OL

OL

DL

DL

DL

DL

DL

K

WR

TE

WR

K

DL

DL

YR

JR

SR

SR

JR

JR

JR

SR

JR

SR

SR

JR

SO

SR

SO

SR

SO

JR

SR

SO

JR

JR

SR

JR

SR

SR

JR

JR

SR

SR

SR

JR

JR

SR

SR

SR

SR

JR

YR

JR

SR

JR

SR

SR

SR

SR

JR

SO

JR

SR

SO

JR

SR

SR

JR

SR

JR

SR

SR

JR

SR

JR

SR

SO

SR

SR

SR

SR

SR

JR

JR

JR

SR

SR

SR

JR