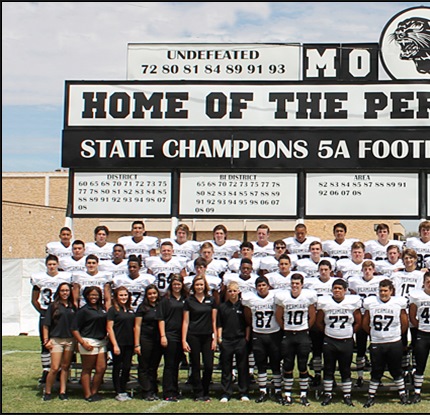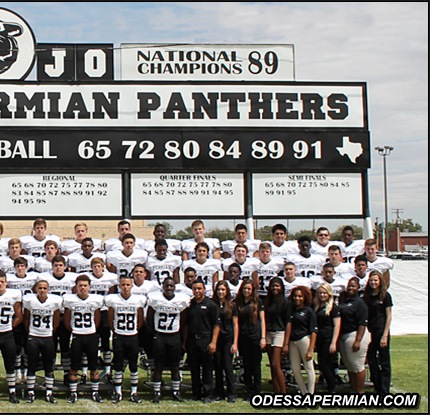 WWW.ODESSAPERMIAN.COM- THE OFFICIAL WEBSITE OF THE ODESSA PERMIAN FOOTBALL BOOSTER CLUB                            COPYRIGHT 2001-2014  ALL RIGHTS RESERVED

SUBJECT TO CHANGE WITHOUT NOTICE          *DISTRICT GAME         ALL TIMES CST

       TIME

7:00pm

W  35-07

W  44-08

W  21-14

W  31-21

L  14-15

W  45-28

L  13-30

W  15-14

W  17-14

L  21-39

W  31-07

W  49-28

L  14-42

      OPPONENT

Frenship (Scrimmage)

McAllen

MISSION MEMORIAL

El Paso Americas

EL PASO CORONADO

LUBBOCK CORONADO (HOMECOMING)

*Midland Lee

*Abilene

*MIDLAND

*Odessa

*SAN ANGELO CENTRAL

#ARLINGTON SAM HOUSTON

#AMARILLO TASCOSA

#Euless Trinity

DATE

AUG    22

AUG    30

SEP      6

SEP    12

SEP    19

SEP    26

OCT    10

OCT    17

OCT    24

OCT    31

NOV     7

NOV    14

NOV    22

NOV    28

SITE (Click on venue to view info)







MOJO FALLS TO TRINITY IN THIRD ROUND OF PLAYOFFS

NOVEMBER 28th- The Permian Panthers fell to the Euless Trinity Trojans 42-14 on Friday, ending their season in the third round of the Class 6A Division 1 state playoffs.

With converted fullback Tyler Natee rumbling for 214 yards from under center, Trinity overpowered Permian in front of a capacity crowd at Pennington Field. Overall, the bigger, stronger Trojans ran the ball 55 times for 458 yards and only passed twice. Trinity drove for touchdowns on every possession in the first half, never punting on their way to a 28-7 halftime lead.

The MOJO offense had a tough time gaining traction in the first half, with Brandon Bailey's three yard run the only score for the Panthers. The touchdown was set up by a perfect quick pass from Heath Wood to Jack Fawcett streaking up the seam for 57 yards. Wood connected with Bailey on a screen pass for the other Permian touchdown.

Much like in the first half, the Trojans were able to control the line of scrimmage and the clock, adding two more touchdowns to ice the game. Final score 42-14 Trojans.

The rejuvinated Panthers season ended at 9-4, with a trip to the third round of the playoffs for the first time since 2008. With most of their starting lineup returning, the 2015 season looks to be a very promising one for MOJO. RESPECT OUR PAST- FEAR OUR FUTURE.

LINKS:

         3-6A OFFENSE

KOBE ROBINSON

  1st Team Wide Receiver

TAYLOR THOMPSON

  1st Team Wide Receiver

JACK FELDT

  1st Team Center

JESUS OLIVARES

  1st Team Guard

HEATH WOOD

  Honorable Mention Quarterback

LINKS:

           3-6A DEFENSE

CODY YOUNG

  1st Team Linebacker

JOSH NGUYEN

  2nd Team Linebacker    

DES SMITH

  2nd Team Cornerback

JAX WELCH

  2nd Team Safety

ANDREW BLACKSTONE

  Honorable Mention Defensive End

TARAN BUTLER

  Honorable Mention Safety

2014 3-6A ALL DISTRICT TEAM

The 2014 Permian Panthers were well represented on the 3-6A All District Team. The All District Team is selected by nomination from coaches based on player's performance in district games.