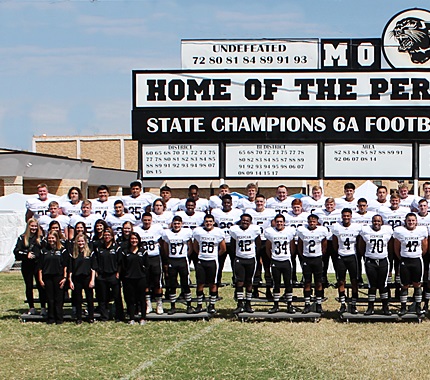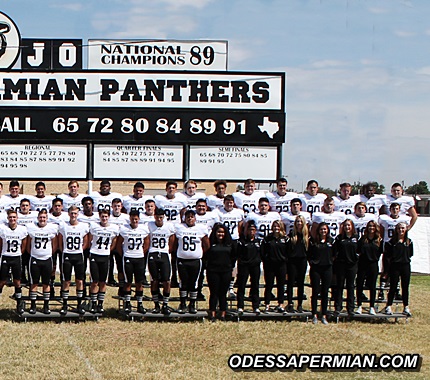 WWW.ODESSAPERMIAN.COM- THE OFFICIAL WEBSITE OF THE ODESSA PERMIAN FOOTBALL BOOSTER CLUB                        MOJO NATION                       COPYRIGHT  ALL RIGHTS RESERVED







SUBJECT TO CHANGE WITHOUT NOTICE          *DISTRICT GAME          #PLAYOFF GAME          ALL TIMES CENTRAL

       TIME

6:30pm

7:00pm

7:30pm

7:00pm

7:00pm

7:00pm

7:30pm

7:00pm

7:30pm

7:30pm

7:30pm

      OPPONENT

LUBBOCK-COOPER (Scrimmage)

DESOTO

El Paso Franklin

Southlake Carroll

INTERNATIONAL SCHOOL of BROWARD, FL (Homecoming)

LOS FRESNOS

*ODESSA

*Amarillo Tascosa

*MIDLAND

*FRENSHIP

*Midland Lee

DATE

AUG

AUG

SEP

SEP

SEP

SEP

OCT

OCT

OCT

NOV

NOV

FALL CAMP BEGINS MONDAY, AUGUST 13TH

MEDIA DAY AUGUST 18TH                 WATERMELON FEED AUGUST 23RD

WHITE TEAM WINS 24-14 VICTORY IN SPRING GAME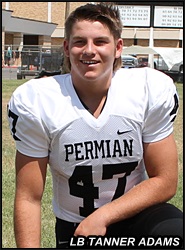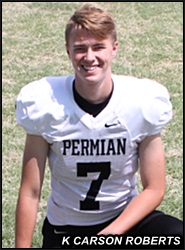 MAY 16th- Permian wrapped up a month of spring football drills with the annual MOJO Black-White Game on Wednesday at Ratliff Stadium.

Quarterback Peyton Powell rushed for two touchdowns and had a perfect game through the air as Team White rallied for a 24-14 victory over Team Black. Powell broke loose for a 43 yard touchdown run on the opening series of the game. He scored the go-ahead touchdown in the fourth quarter as White came back from a 14-7 halftime deficit.

Powell would end the day with 71 yards rushing on eight carries, and also went 10-for-10 passing for 105 yards.

Christian Tschauner led the White team at receiver with four catches for 30 yards.

Justin Hammond directed the other touchdown drive for the Team White, scoring from one yard out to tie the game at 14-all in the third quarter.

Quarterback Christian Rodriguez led the Black team, rushing for 25 yards and a touchdown, and completing 6 of 10 passes for 66 yards. Hunter Pence caught two passes for 13 yards.

Rodriguez scored on a five yard keeper on Team Black's first series, answering Powell's scoring run. The Black then took the lead right before halftime on a 14 yard run up the middle by Mark Samaniego. Samaniego finished with 26 yards on four carries.

Carson Roberts- kicking for both teams- went 5 for 5 on extra points and ended the game with a 42-yard field goal.

MOJO opens the season August 31st when they host the DeSoto Eagles at Ratliff Stadium.

LINKS: