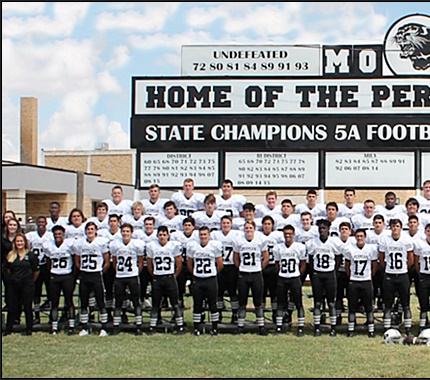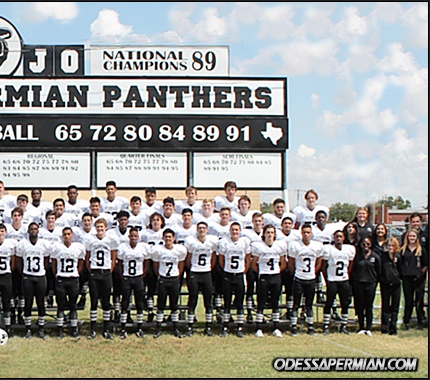 WWW.ODESSAPERMIAN.COM- THE OFFICIAL WEBSITE OF THE ODESSA PERMIAN FOOTBALL BOOSTER CLUB                        MOJO NATION                       COPYRIGHT  ALL RIGHTS RESERVED







SUBJECT TO CHANGE WITHOUT NOTICE          *DISTRICT GAME           ALL TIMES CDT

       TIME

TBA

7:00PM

7:00PM

7:30PM

7:30PM

7:30PM

7:30PM

7:30PM

7:30PM

7:30PM

      OPPONENT

Lubbock-Cooper (Scrimmage)

AUSTIN VANDEGRIFT

EL PASO FRANKLIN

El Paso Eastwood

*WOLFFORTH FRENSHIP

*Midland

*AMARILLO TASCOSA (Homecoming)

*San Angelo Central

*ODESSA (Senior Night)

*Midland Lee

DATE

AUG

SEP

SEP

SEP

SEP

OCT

OCT

OCT

NOV

NOV

MAY 18th– The 2017 edition of the Permian Panthers concluded spring football drills with the annual Black-White Game at Ratliff Stadium. A fourth quarter rally by the Black Team earned them a 26-21 victory over White.

While most of the expected starters were held out of the intrasquad game, there were more than enough fireworks to get MOJO fans excited for the upcoming season.

Team Black was first on the scoreboard midway into the opening quarter, with a four-yard touchdown run by slotback Keshawn Jones capping a 70 yard drive.

The White team responded with a pair of touchdowns in the second quarter to take a 14-7 lead. QB Christian Rodriguez led a six-play scoring drive, hitting paydirt on a quarterback keeper. On the next possession Rodriguez connected with Garrett Hankins for a 28-yard touchdown.

Team White opened the second half with a long drive that ate up most of the third quarter. RB Mark Samaniego scored from 18 yards out to cap off the drive for a 21-7 White lead.

But just when it looked like White would run away with it, Team Black came to life and took control of the game.

Trailing by two touchdowns, Easton Hernandez went to work. The rising sophomore quarterback hit WR Nakavieon White on a 52-yard strike to get Team Black into the red zone. Three plays later, the two connected for an 18-yard TD reception to cut the deficit to 21-13 with five minutes to play.

On the following possession the Black defense forced a punt and took over on its own 37 yard line. With the ball back in the hands of Team Black, Hernandez broke loose on a 63-yard touchdown run to slice Team White's lead to two points.

With time running out and less than a minute to play, the Black Team was back on offense trying to complete the rally. Making their way down to the 23-yard line, Hernandez found White again in the endzone for the game-winning touchdown pass with just 24 seconds remaining.

From there Team Black cornerback Zacimbricc White picked off an errant Rodriguez pass to end the game. Final score Black 26, White 21.

Easton Hernandez was 9 of 14 for 177 yards with two touchdowns and two interceptions. Christian Rodriguez finished 9 of 17 for 96 yards with one score and one interception. Both quarterbacks showed their ability to run the ball as well. Hernandez had six carries for 92 yards and one touchdown, while Rodriguez supplied 65 yards and one score on seven carries.

LINKS:

2017 VARSITY RETURNING PLAYERS ROSTER

#

3

5

9

12

15

16

18

20

21

24

25

27

29

31

32

33

40

42

45

PLAYER

Toddrick Robinson

Christian Tschauner

Ben Vore

Jayden Alanis

Jordan Parker

Preston Ellison

Brother Miller

Justin Hammond

Seth Higdon

Ruben San Miguel

Steve Steen

Ed Williams

Rakeeb Adeyami

Mason Sellers

Andy Notley

Cameron Martinez

Jaden Riggs

Jerron Ontiveroz

Bailey Grizzell

POS

SLOT

CB

S

SLOT

WR

S

SLOT

QB/SLOT

S

S

QB

RB

CB

S

DL

LB

LB

LB

LB

#

47

49

51

55

56

61

63

66

70

72

73

76

80

88

92

97

99

PLAYER

Tanner Adams

Ethan Easley

O'Ryan Farley

Matt Jones

Jacob Wilkerson

Paul Freeman

Dawson Reynolds

Marc Prieto

Orlando Bueno

Pablo Olivares

Bryson White

Khaled Abu-Alghanam

Zane Murphy

Luis Ibarra

Ociel Carillo

Alvaro Ramos

Dorian Rand

POS

LB

LB

DL

LB

OL

OL

OL

OL

OL

OL

OL

DL

S

WR/K

DL

DL

DL

YR

JR

JR

SR

JR

SR

SR

SR

JR

SR

SR

SR

JR

JR

JR

JR

JR

JR

SR

SR

YR

JR

SR

SR

JR

SR

JR

JR

SR

SR

SR

JR

SR

SR

SR

JR

SR

SR

BLACK TEAM RALLIES TO WIN SPRING GAME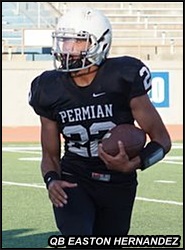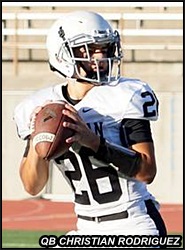 FALL FOOTBALL CAMP BEGINS MONDAY, AUGUST 14th

Media Day August 19th           Watermelon Feed August 24th           Scrimmage at Lubbock-Cooper August 25th