WWW.ODESSAPERMIAN.COM- THE OFFICIAL WEBSITE OF THE ODESSA PERMIAN FOOTBALL BOOSTER CLUB                        MOJO NATION                       COPYRIGHT  ALL RIGHTS RESERVED







SUBJECT TO CHANGE WITHOUT NOTICE          *DISTRICT GAME          #PLAYOFFS        ALL TIMES CST

       TIME

TBA

7:30pm

7:00pm

7:00pm

7:30pm

7:30pm

7:30pm

7:30pm

7:30pm

7:30pm

7:30pm

      OPPONENT

LUBBOCK COOPER (Scrimmage)

Austin Vandegrift

El Paso Franklin

EL PASO EASTWOOD

BISHOP TIMON, NEW YORK (Homecoming)

*Wolfforth Frenship

*MIDLAND

*Amarillo Tascosa

*SAN ANGELO CENTRAL

*Odessa

*MIDLAND LEE (Senior Night)

DATE

AUG

AUG

SEP

SEP

SEP

SEP

OCT

OCT

OCT

OCT

NOV

SITE

Peoples Bank Stadium

RATLIFF STADIUM

Bivens Stadium

RATLIFF STADIUM

Ratliff Stadium

RATLIFF STADIUM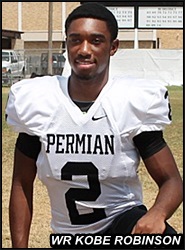 BLAKE FELDT

  Coach of The Year

KOBE ROBINSON

  1st Team Wide Receiver

DEXTER NEBOH

  1st Team Wide Receiver

CONNOR RUSSELL

  1st Team Center

TRACE NOTLEY

  1st Team Guard

TREY POTTER

  1st Team Quarterback

BRANDON BAILEY

  1st Team Runningback

JACK FAWCETT

  1st Team Tight End

BROTHER MILLER

  2nd Team Wide Receiver

JESUS OLIVARES

  2nd Team Guard

ZANE DIGBY

  2nd Team Tackle

JACE RUSH

  Honorable Mention Tackle

LINKS:

JOSH NGUYEN

  1st Team Linebacker

TOMMY TAYLOR

  1st Team Linebacker

ROBBY WASHINGTON

1st Team Linebacker   

DES SMITH

  1st Team Cornerback

ANDREW BLACKSTONE

  1st Team Defensive End

DAKODA DELAO

  1st Team Kicker, 2nd Team Punter

JAX WELCH

  2nd Team Safety

ANGEL GONZALES

2nd Team Defensive Tackle

DEYLAN MORENO

  2nd Team Linebacker

JORDAN MCCOY

  2nd Team Cornerback

ISAIAH SARABIA

  Honorable Mention Safety

2015 3-6A ALL DISTRICT TEAM

2015 FOOTBALL BANQUET AWARDS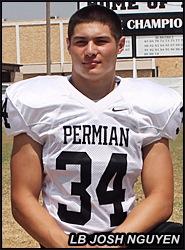 MOST VALUABLE PLAYER

  Brandon Bailey

ED GRAY AWARD

  Trey Potter

HIGHEST GPA

  Jack Fawcett

MOST CONCIENTIOUS PLAYER

  Tommy Taylor

WILKINS SCHOLARSHIP

  Trey Potter

SCHNEIDER SCHOLARSHIP

  Jack Fawcett

BEST OFFENSIVE LINEMAN

  Zane Digby, Trace Notley

BEST DEFENSIVE LINEMAN

  Angel Gonzales

BEST DEFENSIVE BACK

  Des Smith

LINKS-

BEST OFFENSIVE RECEIVER

  Kobe Robinson

BEST OFFENSIVE BACK

  Brandon Bailey

BEST LINEBACKER

  Josh Nguyen

BEST SPECIAL TEAMS

  Dakoda Delao

HOWELL FIGHTING PANTHER

  Jax Welch

SUPPORT STAFF

  Isaiah Palacios, Rachel Riser

FOOTBALL SWEETHEART

  Kariza Fierro

GENE MCCANLIES AWARD

  Janice Murrell

GEORGE MANLY AWARD

  Becky Lucas

2016 PANTHER CAMP AUGUST 1ST - 3RD

Incoming grades 7 through 9

2015 PERMIAN PANTHERS VARSITY HIGHLIGHTS

Brought to by the Permian Booster Club and ODESSAPERMIAN.COM. Over two hours of exclusive footage from the Permian Panthers 2015 football season, including the varsity roster photo slideshow and the This Is MOJO music video. Proceeds benefit the Permian football program.