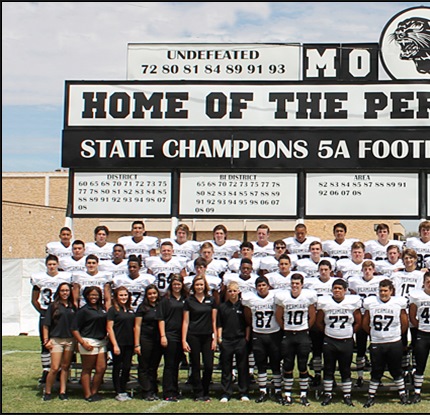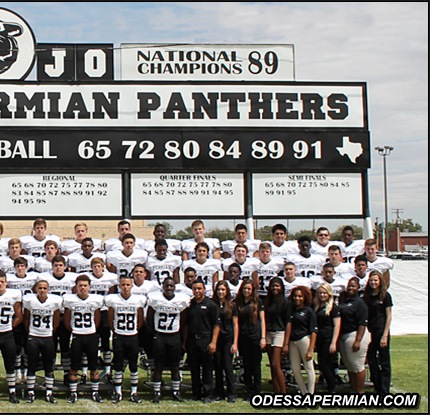 WWW.ODESSAPERMIAN.COM- THE OFFICIAL WEBSITE OF THE ODESSA PERMIAN FOOTBALL BOOSTER CLUB                            COPYRIGHT 2001-2014  ALL RIGHTS RESERVED

SUBJECT TO CHANGE WITHOUT NOTICE          *DISTRICT GAME         ALL TIMES CST

       TIME

7:00pm

W  35-07

W  44-08

W  21-14

W  31-21

L  14-15

W  45-28

L  13-30

7:30pm

7:30pm

7:30pm

      OPPONENT

Frenship (Scrimmage)

McAllen

MISSION MEMORIAL

El Paso Americas

EL PASO CORONADO

LUBBOCK CORONADO (HOMECOMING)

*Midland Lee

*Abilene

*MIDLAND

*Odessa

*SAN ANGELO CENTRAL

DATE

AUG    22

AUG    30

SEP      6

SEP    12

SEP    19

SEP    26

OCT    10

OCT    17

OCT    24

OCT    31

NOV     7

SITE (Click on venue to view info)

MOJO MANHANDLES MIDLAND LEE







OCTOBER 10th- The Permian Panthers kicked off the District 3-6A playoff race in fine fashion, running away with a 45-28 win over the Midland Lee Rebels.

MOJO got a big game from junior running back Brandon Bailey, who put the Panthers on the board first with a 54 yard touchdown run. Sophomore Kobe Robinson made it 14-0 on the last play of the first quarter with a 14 yard scoring run. Lee answered with a 75 yard scoring drive to cut the Panthers' lead to 14-7. That was as close as the Rebels would get however, as MOJO responded with a spectacular 88 yard touchdown pass from Heath Wood to Robinson. Each team added a touchdown to end the second quarter, and Permian went into the break on top 28-14.

The second half would go much the same as the first. Jeff Baeza forced a fumble on Lee's opening possession. Heath Wood set up the Panthers with a 33 yard run deep into Lee territory on third down, then completed the drive with a nine yard scoring run. Dakoda Delao's fifth PAT of the game made the score 35-14 MOJO. Lee responded with a 34 yard touchdown run from their running back Aron Dobbins. Not to be outdone, Bailey answered with his third long touchdown of the evening, this time from 56 yards out. The Rebels struck back with a quick four play drive to make the score 42-28. MOJO answered with a time consuming drive set up by Jack Fawcett's key third down reception. The drive stalled, but Delao was able to add a 22 yard field goal to make the score 45-28 in favor of the Panthers. With a little over a minute remaining the Rebels tried to get in scoring position, but Taran Butler picked off a Rebel pass and returned it to the four yard line. From there, Permian was able to line up in victory formation to run out the clock. Final score 45-28 MOJO.

Brandon Bailey and Heath Wood had career games on the ground. Bailey rumbled for 243 yards and three touchdowns, with Wood adding 96 yards and a touchdown. Wood also passed for 154 yards and a score. Kobe Robinson had 115 yards rushing and receiving to go along with two touchdowns. On the defensive side Cody Young and Jeff Baeza had a fumble recovery each, with Taran Butler grabbing an interception. The win gives the Panthers a 1-0 record in District 3-6A (5-1 overall).

NEXT UP- MOJO travels to Abilene to take on the Eagles (0-1, 4-2) at Shotwell Stadium. Kick off is set for Friday, October 17th at 7:30pm. JV teams will play their Abilene counterparts October 16th at Ratliff Stadium. Freshmen travel to Abilene to play the Eagle freshmen at the Lee Athletic Complex.

LINKS:

SHORT HANDED PANTHERS FALL PREY TO EAGLES

OCTOBER 17th- The Permian Panthers fell to 1-1 in District 3-6A (5-2 overall) after their 30-13 loss to the Abilene Eagles on Friday.

MOJO traveled to Abilene short handed, as starting running back Brandon Bailey and both backups- Marquiest Allen and Bryan Rhea- were serving suspensions for unexcused absences from practice. With no running game to speak of the Panthers had a hard time sustaining drives most of the night. Meanwhile the Eagles were able to jump out to a 20-0 lead midway through the second quarter. Permian finally got on the board with a touchdown pass from Heath Wood to Tyson Banks. The PAT was blocked, and the Panthers went into the break down 20-6.

The second half transpired much as the first half had. Abilene increased their lead to 27-6 as the third quarter ended, then added a 28 yard field goal to their total midway through the fourth. The Panthers got back into the endzone with under a minute to play, with Wood connecting with Jack Fawcett from 13 yards out. Final score 30-13 Abilene.

Wood ended the night with 223 yards and two touchdowns passing. Freshman Javorian Miller- getting the first receptions of his young career- was the leading receiver with seven catches for 78 yards. Kobe Robinson played as the primary running back and managed 25 yards on eight carries. Defensively, Des Smith and Jordan McCoy had interceptions.

NEXT UP- Permian hosts Midland High (1-1, 4-3) October 24th at Ratliff Stadium. Kickoff is set for 7:30pm. The Junior Varsity teams will travel to Midland to play the Bulldogs JV Thursday, October 23rd at 5:00pm and 7:00pm. Permian's Freshmen will host their Midland Bulldog counterparts on Thursday at Wilkins Field.

LINKS: