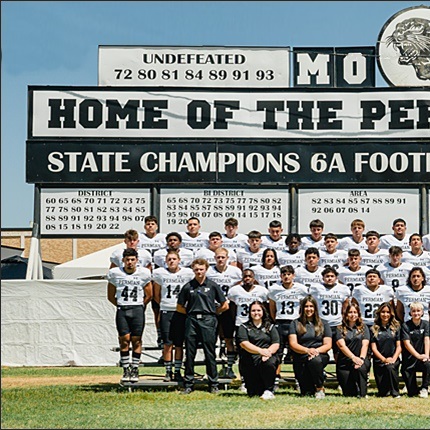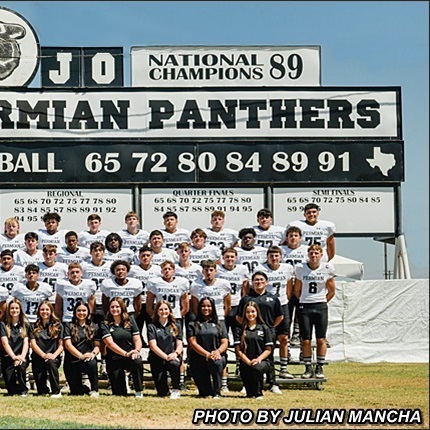 WWW.ODESSAPERMIAN.COM- THE OFFICIAL WEBSITE OF THE ODESSA PERMIAN FOOTBALL BOOSTER CLUB                      MOJO NATION                     COPYRIGHT  ALL RIGHTS RESERVED







PERMIAN PANTHERS FOOTBALL BANQUET

Saturday, January 27th     6:00pm      MCM Grande Fun Dome

2023 VARSITY SCHEDULE/RESULTS

SUBJECT TO CHANGE WITHOUT NOTICE       *DISTRICT GAME        #PLAYOFF GAME        ALL TIMES CENTRAL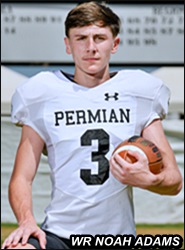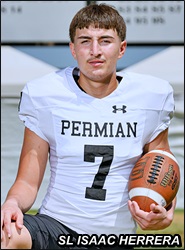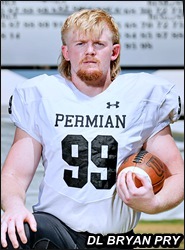 2023 2-6A ALL-DISTRICT TEAM

MOJO'S PLAYOFF RUN ENDS IN THE AREA ROUND

OFFENSE

JUZSTYCE LARA

   1st Team Running Back -x

ISAIAH WELTON

   1st Team Fullback/H-Back

JULIO MADERO

   1st Team Tackle

NOAH CASAS

   1st Team Guard

ISAAC HERRERA

   2nd Team Running Back

JAKOB GARCIA

   2nd Team Quarterback

LUKE PARADEAUX

   2nd Team Tight End

JACOB FRANCO

   2nd Team Kicker

NOAH ADAMS

    Honorable Mention Wide Receiver

GAGE MURPHY

    Honorable Mention Wide Receiver

GAVIN BLACK

    Honorable Mention Running Back

BENJAMIN SALDIVAR

   Honorable Mention Slot

JUSTIN GREENE

   Honorable Mention Offensive Line

JAIDAN VELA

   Honorable Mention Offensive Line

JOSH HENDERSON

   Honorable Mention Offensive Line

LINKS:

DEFENSE

BRADEN GARCIA

    Defensive Newcomer of The Year

FRANK ALVARADO

   1st Team Defensive End

SEBASTIAN SANCHEZ

   1st Team Defensive End

BRYAN PRY

   1st Team Defensive Tackle -x

PARKER HAYNES

   1st Team Outside Linebacker

BRADEN GARCIA

   1st Team Safety

KHEEAUNDRE ABDUL-AZIZ

   1st Team Safety

JACOB FRANCO

   1st Team Punter

RILEY SUMMERFORD

   2nd Team Linebacker

DILLON NEGRE

   2nd Team Cornerback

VICTOR RAMIREZ

    Honorable Mention Linebacker

PRESTON GRIZZELL

    Honorable Mention Linebacker

JORDAN STRANGE

    Honorable Mention Linebacker

CALEB CRUZ

    Honorable Mention Cornerback

x- unanimous selection

NOVEMBER 17th- Permian saw their season end in the Area round of the playoffs with s 63-10 loss to the state-ranked North Crowley Panthers.

Coming into the game undefeated at 11-0, North Crowley showed why they are ranked 6th in the Associated Press 6A poll, scoring early and often when they had the ball.

North Crowley got on the board first with a 27-yard touchdown pass. With 5:31 to go in the first quarter North Crowley had a 7-0 lead.

Permian would answer with a long drive down to the North Crowley four-yard line before settling for a Jacob Franco field goal, making it 7-3 in the second period.

North Crowley added touchdown runs of 16 and two yards to go into the halftime break with a 21-3 advantage.

North Crowley would explode for 28 points in the third quarter to put the game out of reach. MOJO finally found paydirt when Isaac Herrera hooked up with Gage Murphy on a 47-yard halfback pass. The third frame ended with North Crowley on top 49-10.

North Crowley would add insult to injury with two more scores in the final frame. The game ended with North Crowley advancing to the third round of the Class 6A Divison I playoffs with a 63-10 victory.

Juzstyce Lara rushed for 75 yards on 25 carries, giving him a final total of 1,759 yards on the season. Jakob Garcia completed 10 of 13 passes for 48 yards. Isaac Herrera rushed for 53 yards and threw a touchdown pass to Gage Murphy. 

Permian ends the 2023 season as 7-5 Area finalists. Looking ahead to next season the Panthers return 15 underclassmen that started or received signifcant playing time, which should provide a good base to build on for the 2024 season.

NEXT UP- The Panthers will hold their annual Football Banquet on January 27th, 2024 at the MCM Grande Fun Dome. More details TBA.

LINKS:

TIME

L  49-14

W  27-21

W  43-06

L  27-25

W  41-20

L  49-42

W  32-31

L  46-44

W  42-14

W  21-14

W  26-13

L  63-10

      OPPONENT

ABILENE

Waco Midway

AMARILLO TASCOSA (Homecoming)

Killeen Harker Heights

Abilene Cooper

*ODESSA

*Midland Legacy

*FRENSHIP

*SAN ANGELO CENTRAL (Senior Night)

*Midland

#EL PASO PEBBLE HILLS

#NORTH CROWLEY

DATE

AUG   25

SEP    1

SEP    8

SEP   15

SEP   22

OCT    6

OCT   13

OCT   20

OCT   27

NOV    3

NOV  10

NOV  17