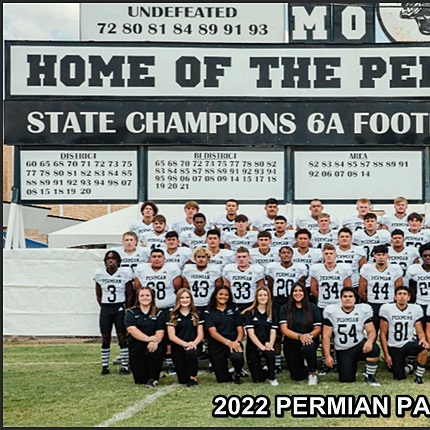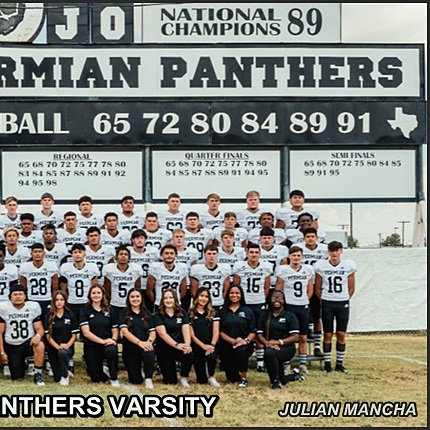 WWW.ODESSAPERMIAN.COM- THE OFFICIAL WEBSITE OF THE ODESSA PERMIAN FOOTBALL BOOSTER CLUB                      MOJO NATION                     COPYRIGHT  ALL RIGHTS RESERVED







PANTHER CAMP FOR MIDDLE SCHOOL AND FRESHMEN

August 1st, 2nd, and 3rd      Permian High School       Wilkins Field       INFORMATION
SUBJECT TO CHANGE WITHOUT NOTICE       *DISTRICT GAME        #PLAYOFF GAME        ALL TIMES CENTRAL

TIME 

7:00pm

7:00pm

7:00pm

7:00pm

7:00pm

7:00pm

7:00pm

7:00pm

7:00pm

7:00pm

      OPPONENT

Abilene

Waco Midway

Amarillo Tascosa

Killeen Harker Heights

Abilene Cooper

*Odessa

*Midland Legacy

*Frenship

*San Angelo Central

*Midland

DATE

AUG

SEP

SEP

SEP

SEP

OCT

OCT

OCT

OCT

NOV

SITE LINK

Shotwell Stadium

RATLIFF STADIUM

Dick Bivins Stadium

RATLIFF STADIUM

RATLIFF STADIUM

Ratliff Stadium

RATLIFF STADIUM

Peoples Bank Stadium

San Angelo Stadium

RATLIFF STADIUM

SISD SAC STADIUM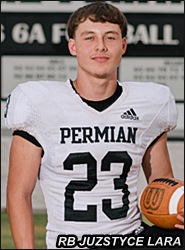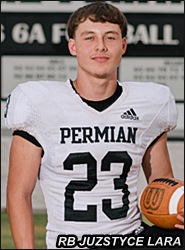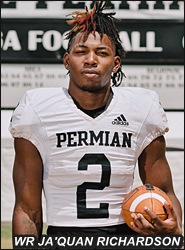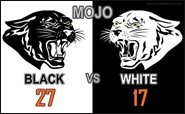 2022 2-6A ALL-DISTRICT TEAM

MAY 18TH- The 2023 version of the Permian Panthers wrapped up spring drills with the traditional Black-White Spring Football Game.

Playing under a modified scoring format with the Black team on defense and the White team on offense, it was Team Black that was able to secure a 27-17 victory on Thursday at Ratliff Stadium.

Juzstyce Lara and John Paul Uranga had good runs for Team White, with Lara busting loose for gains of 35 and 17 yards in the first quarter. Uranga scored a touchdown in the second quarter.

Linebacker Parker Haynes was a beast on defense for Team Black with several stops in the backfield. Aaron Acosta capped the scoring with an interception to end the contest.

With spring football out of the way, Permian will turn its attention to varsity 7 on 7 tournaments  and summer speed and strength camps. The Panthers are scheduled to compete in the Lubbock 7 on 7 State Qualifying Tournament Saturday, May 27th. The Abilene SQT is set for Saturday, June 3rd.

Speed and Strength Camps are scheduled for June 5th through July 27th. The camps are open to all Permian High School athletes. GO HERE for more information.
TEAM BLACK DEFEATS WHITE IN SPRING GAME

OFFENSE

JUZSTYCE LARA

   1st Team Running Back

ANDREW HELGUERA

   1st Team Fullback/H-Back

NATHAN RODRIGUEZ

   1st Team Tight End

RODNEY HALL

   1st Team Quarterback

JA'QUAN RICHARDSON

   1st Team Wide Receiver

HARRIS SEWELL

   1st Team Tackle

NATHANIEL RODRIGUEZ

   1st Team Guard

FRANSISCO SANCHEZ

   1st Team Center

ISAAC HERRERA

   1st Team Utility Back

TATE TERRY

   1st Team Kicker

TABARIE JONES

   2nd Team Wide Receiver

ISRAEL PONCE

   2nd Team Tackle

TERRON YOUNG

    Honorable Mention Running Back

RYAN ONTIVEROZ

    Honorable Mention Guard

JYZAIYAH SOLIS

    Honorable Mention Wide Receiver

LINKS:

DEFENSE

BRYCE WOODY

    Defensive Most Valuable Player

PARKER HAYNES

    Defensive Newcomer of The Year

DESMOND HILL

   1st Team Defensive End

PARKER HAYNES

   1st Team Outside Linebacker

JACE GILLIAM

   1st Team Outside Linebacker

CAYSON CLINTON

   1st Team Inside Linebacker

DEONTE BASS

   1st Team Cornerback

JADYN PRUITT

   1st Team Cornerback

BRYCE WOODY

   1st Team Safety

FRANK ALVARADO

   2nd Team Defensive End

HAYDEN DURAN

   2nd Team Safety

JACOB FRANCO

   2nd Team Punter

BRYAN PRY

    Honorable Mention Nose Guard

PRESTON GRIZZELL

    Honorable Mention Linebacker

BROCK MADRID

    Honorable Mention Cornerback

JEFF ELLISON

   2-6A Coach of The Year